In leading our family business we stick to the formula of panta rhei: everything is in perpetual change. Our agriculture, our wines and also, we ourselves have constantly developed from the beginning. We have questioned the old-fashioned, have always reoriented ourselves to the best of our knowledge and belief. Further, we are open and positive about future changes. This is why in what we do, we are guided by the following six principles:
IN WHAT WE DO WE RESPECT OUR NATURE AND OUR RESOURCES.
This lets us become more committed farmers, better producers and more creative chefs. Whether this is in creating a circular economy, in preserving fruit and vegetables or in an appreciative and holistic processing of our pigs.
WE HAVE NOTHING TO ADD TO OUR WINES.
That is why they are naturally fermented. In the wine making process we only use gravity. Our wines are filled straight into the bottle without adding any additives. We either use minimal sulfur or do without it altogether.
QUALITY AND CRAFTSMANSHIP ARE OUR GREATEST DRIVE.
They build the basis for our home-made meat specialties, the charcuterie, the sourdough breads from our steam oven, and each and every one of our wines.
WE APPRECIATE AND USE AGRICULTURAL INDIVIDUALITY.
Every farm in our region is unique. Like the production capacities of our organic agriculture, also our neighbor's capacities are limited. This is reflected in our restaurant opening times and the products and dishes on our menu.
WE RETHINK THE TRADITIONAL HEURIGEN-RESTAURANT
Our Heurigen-Restaurant is a cozy meeting point for families, for friends and colleagues. A place to linger and share. A place where we as winemakers and producers take on the role of hosts and let the treasures of our region speak for themselves at the table.
AS A FAMILY BUSINESS, WE ARE IN PERPETUAL CHANGE.
Our agriculture, our wines, and we ourselves are constantly evolving. In search of the best possible way, we never get tired of questioning the traditional and entering new paths.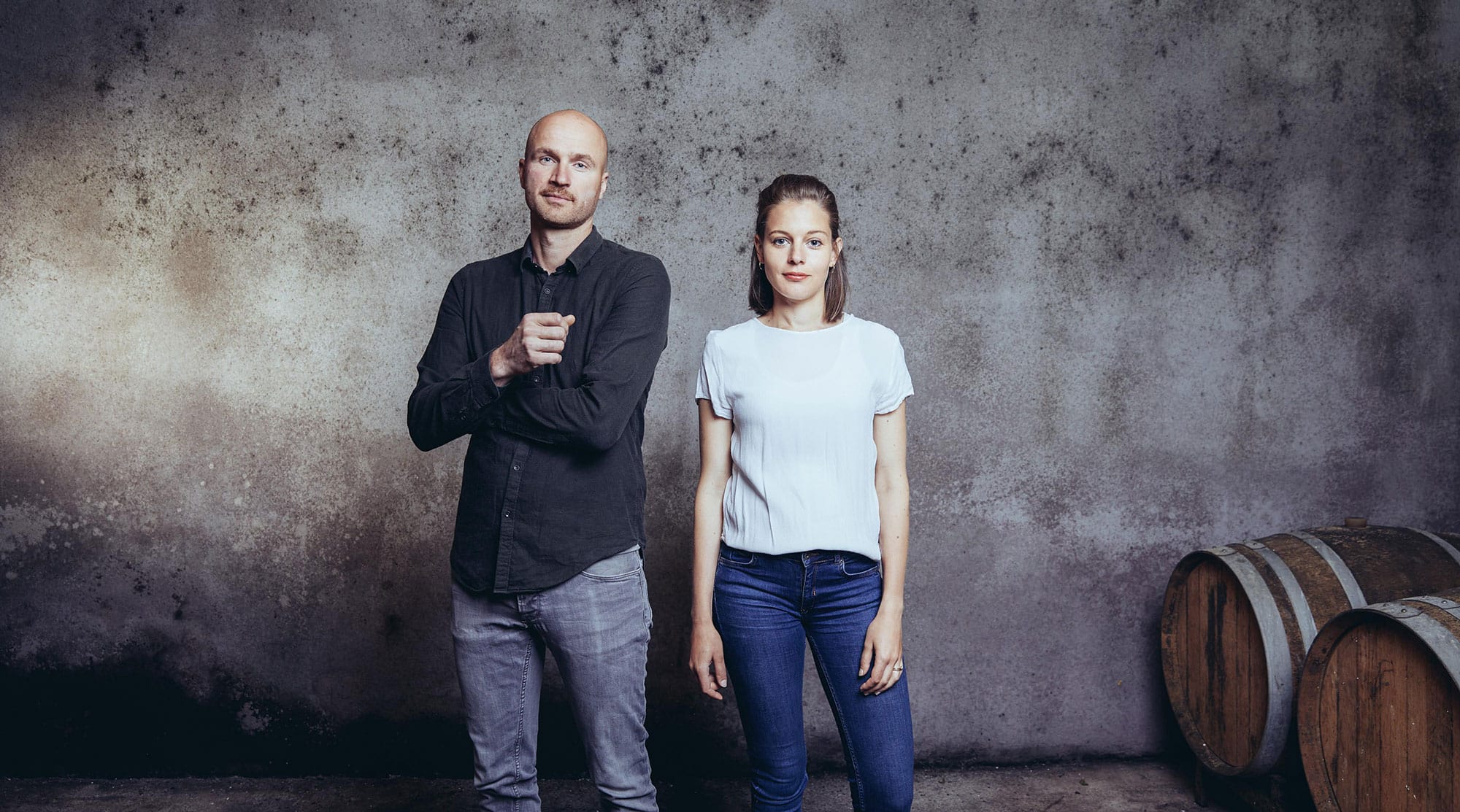 FROM FARM TO TABLE.
The menu of our Heurigen-Restaurant reflects our organic agriculture. What will find its way into our kitchen and will be served to our guests is defined by our and our neighbor's agriculture. So, the delicacies from our manufactory have the same origin as the home-made wines that accompany them.
HOME MADE FOOD.
We make no compromises when it comes to taste and quality. That is why we produce as much as possible ourselves: from meat products, lardo and sausages from our own organic pigs to sourdough breads. Reusing old, gentle techniques when baking bread or making wine make yeast and additives unnecessary.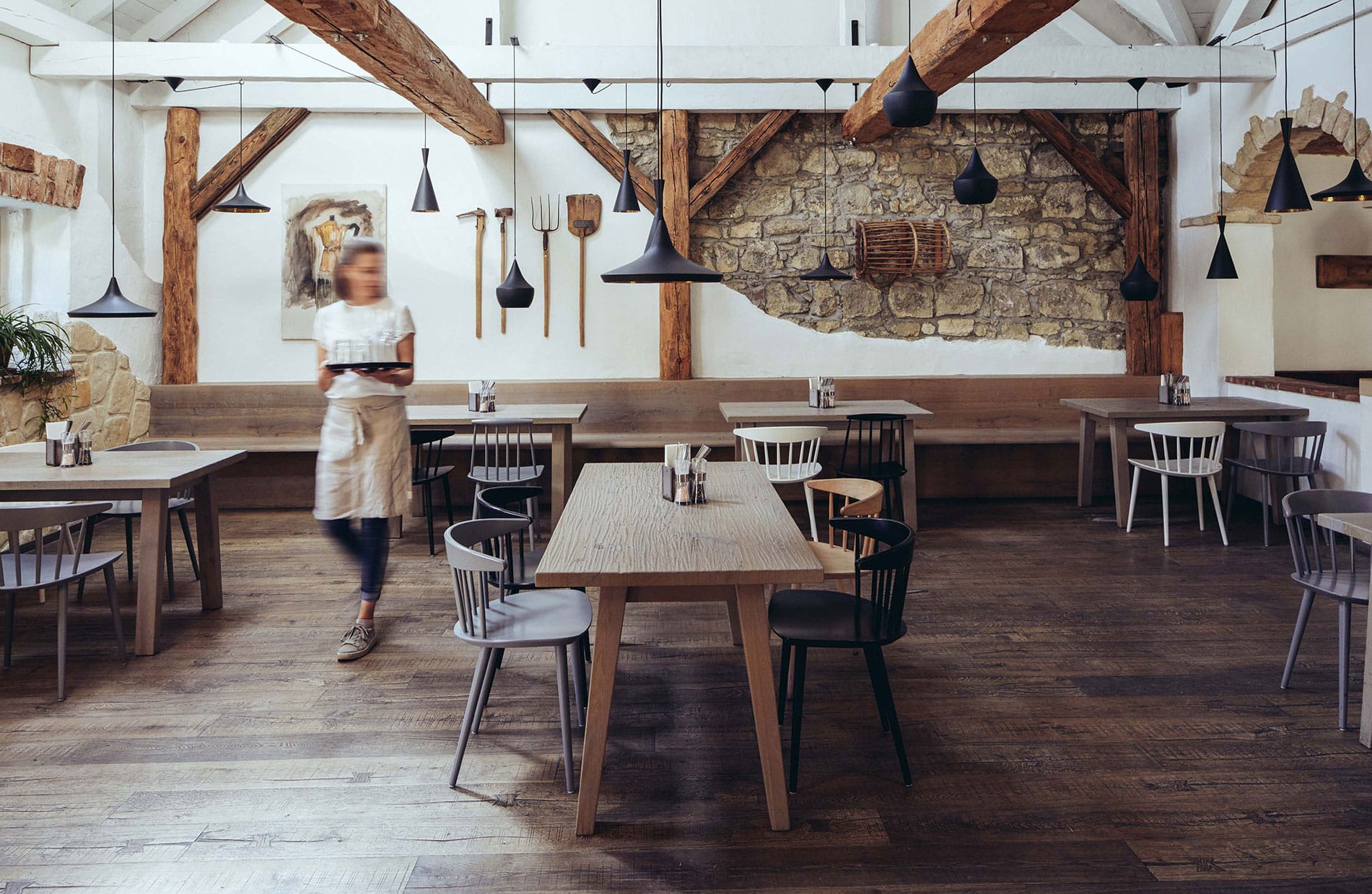 HANDCRAFTED ORGANIC WINES.
In our Family we love to take it into our down hands. From handpicking our grapes, processing them in our cellar to selling our wines. The support from Bernhard's parents and brother in what we do is very important to us. In the wine cellar, on the other hand, we take a step back and keep our interventions as minimal as possible. We rely on the laws of nature such as natural fermentation and gravity. Just like we rely on our wines, each of which has its own unique character.
WINES IN BECOMING.
Everything is in perpetual change, everything flows. Including our wines. We don't mean their drinking flow, but the incessant development they go through. Every vintage is different and even we, as winemakers, like to change from time to time. That is why to us every wine – whether still in the barrel or already in the bottle – is not a finished creation, but as a sketchy snapshot. Everything essential is there, everything else is in the process of becoming.
THE DRINKABLE EFFIGY OF OUR REGION.
With the extraordinary geological and climatic conditions along the Leitha Mountains, we are literally in a happy place in Leithaprodersdorf. Because with Leithakalk and bedrock, our soils resemble those of the best locations in the 19 Leithaberg communities. Our connection to this unique location can also be found in our logo: the circles represent the moated castle that the Celts once built in our village.
RENDEZVOUZ WITH OUR WINE.
The glass in our vinotheque is always full – not just out of optimism, but out of pure hospitality. Regardless of whether your evening is just beginning, you have already enjoyed a meal in the Heurigen Restaurant or you would like to refill your own wine cellar – the time to taste and try our variety of wines is always the right one.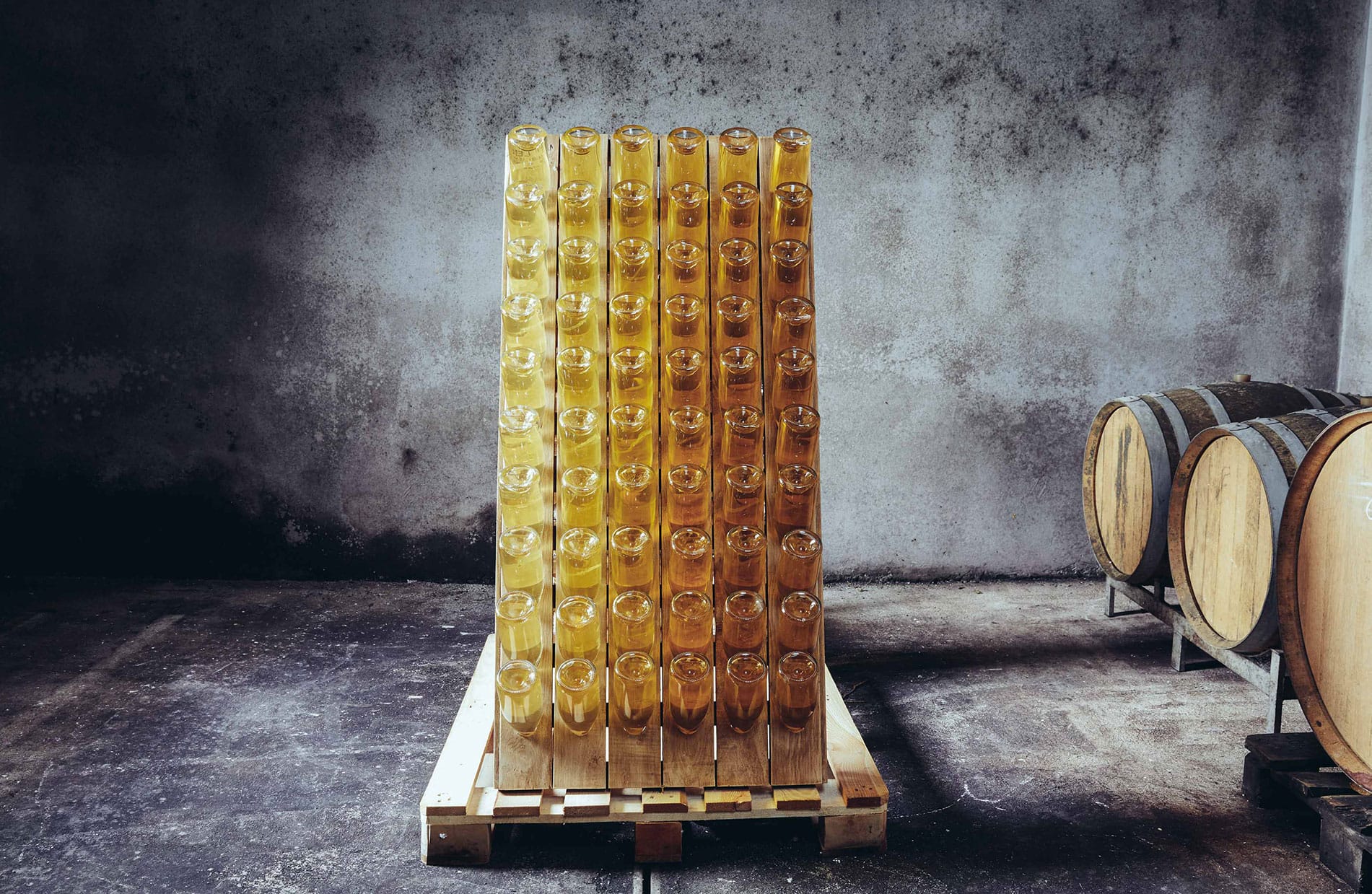 OUR ANIMALS AROUD THE "PFEFFERBÜCHSEL" HILL.
We like to let nature run free. This also applies to our Turopolje, Berkshire and Mangalitza free-range pigs, who rummage in the earth on 23,000 m2 at the foot of the Pfefferbüchsel and fill their bellies with hay, potatoes, barley and peas, partly from their own cultivation. The same applies to our bee colonies, who capture the essence of our meadows and forests in their honey and thus not only sweeten our day.
CLOSE THE CIRCLE.
In order to get even closer to our vision of a closed cycle, we are already bringing in some of the einkorn, rye and wheat for our sourdough bread from our own fields. The fact that we completely utilize the treasures from our soil and preserve them using traditional methods is as close to us as the fresh Leithaland vegetables from our neighbors.
ENJOY THE FINE THINGS.
The Pfefferbüchsel with the characteristic church tower is not only the landmark of Leithaprodersdorf, but also the cradle of our traditionally produced specialties. With our Lardo, matured in specially made Wachau marble troughs for twelve months, and the Mangalitza lardo, you can literally let the region melt in your mouth and take a piece of it home with you.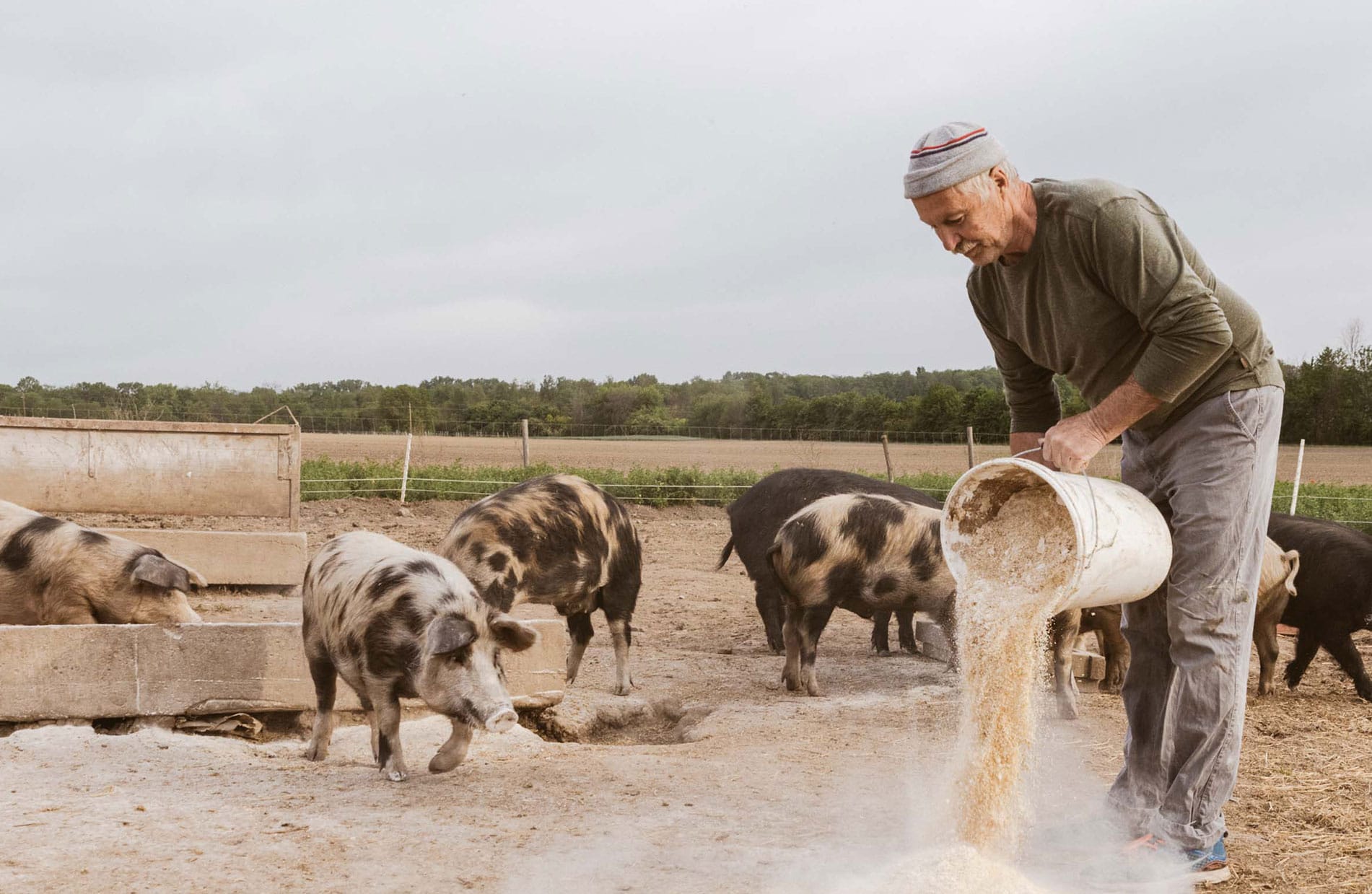 Please book your table online. If you want to make a reservation for TODAY, please give us a CALL +43 6641243456. Otherwise we might not be able to process your reservation in time.
HEURIGEN 2023
Do 10.11. 2022 – So 13.11. 2022 (Ganslessen)
Mi 08.03. 2023 – Sa 11.03. 2023
Mi 15. 03. 2023 – Sa 18.03. 2023
Mi 12 04. 2023 – Sa 15.04. 2023
Di 18.04. 2023 – Fr 21.04. 2023
Mi 28.06. 2023 – Sa 01.07. 2023
Di 04.07. 2023 – Fr 07.07. 2023
Mi 04.10. 2023 – Sa 07.10. 2023
Di 10.10. 2023 – Fr 13.10. 2023
Do 09.11. 2023 – So 12.11. 2023 (Ganslessen)